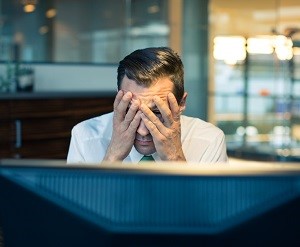 Public records are designed to keep government agencies accountable for their actions and also to help individuals find information they need in the pursuit of personal, legal, and business pursuits. In theory, public records are the epitome of transparent government. In practice, public records do indeed serve this purpose, but the reality of carrying out a request can be much more daunting than one might initially think.
In December of 2013, for example, Port Orchard, Washington resident Randy Jones filed a public records requests asking for email correspondence details between a few very specific groups and individuals: The state's public works director, Mark Dorsey, a biologist from the Department of Fish and Wildlife, Chris Waldbillig, and the Suquamish and S'klallam tribes. He was looking for information surrounding approval for a project called the "Bay Street Pedestrian Pathway."
Fast forward to the present day, and his public records request still isn't done. The City Clerk for Port Orchard says that, since the request was refined and clarified in January, their office has been sending Jones monthly installments of the information he requested. What could possibly be taking them this long, you might ask? For starters, it turns out that the parameters of Jones' request meant the combing through of over 20,000 emails between the named parties for relevant information. Individuals in the city office have been spending hours and hours for months on end in order to fulfill the request.
Ultimately, however, the price Jones will pay for the request will be just a tiny fraction of the operational cost for the records searches over 7-8 months (the office says that it still has about 3,000 emails left to go through before it will be finished). According to the city clerk's office, requests for public records have gone up in recent years, from just 58 in 2009 to over 100 the past few years. In 2013, staff spent over 700 work hours, or over $26,000 in wages for the office, in carrying out public records/disclosure requests. Of that $26,000, about $60 was charged to the requesters.
The debate over the cost of public records, both in terms of what's charged to the requester and the expense to the public office involved, is nothing new. Most public records laws stipulate that the costs of retrieval can't be excessive, in order to avoid public access to records being hampered by excessive fees. That said, state, city, and local government agencies often spend tens or even hundreds of thousands of dollars per year on fielding these types of requests, and may not receive adequate subsidies or funding to do so. It's a catch-22 that leaves many offices with the choice between challenging an already tight budget in order to carry out their civic duties, or breaking public records law and turning down requests that would normally be granted.
For fielding requests specifically like the one that Jones filed in Port Orchard, which largely involve emails, technology is becoming more and more available to help automate the process of searching for relevant information, though it's not perfect and therefore searches by real people are likely to be preferred in sensitive cases for some time to come.